If you or someone you know is considering sailing around the Iberian Peninsula or close to Gibraltar, then this article will explain how you can use the noforeignland app to view orca encounter locations while out sailing – even without an internet connection.
Orca attacks in southern Portugal and Spain
Back in July 2020 we were contacted by sailing friends asking us to make the noforeignland community aware that on their approach to Gibraltar, they had been attacked by a pod of orcas. Luckily for them, they sustained no significant damage and once the orcas lost interest, managed to sail on. They later learned from other boats that this was not an isolated incident. You can read their report here.
Since then, attacks on sailing yachts have increased dramatically and concerned organizations have been busy documenting killer whale encounters around the Iberian Peninsula, most notably: Orcas.pt, The Nautillus Project and GT Orca Atlantica.
Like noforeignland, orcas.pt is a passion project, run on a voluntary basis for the benefit of the sailing community. They provide a Telegram group for sailors in the area to share live updates on, and maintain an exhaustive catalogue of orca encounters and attacks in the region. Given the synergy between our projects we decided to work together to show orcas.pt data on the noforeignland website and app.
Showing orca encounters in noforeignland
To preserve precious bandwidth, the noforeignland app and web site defaults to only show places and boats added by other sailors. To see more, you must subscribe to an external data provider, in this case orcas.pt.
The steps required to subscribe are the same for both the web site and the app. An advantage of using the app is that it loads and stores the data for use offline; a distinct benefit if you plan to take this data with you when out sailing.
In this article I will use the app to demonstrate setting up a subscription, but the steps are very similar for the web site.
Step 1 – Download and install the noforeignland app
Click here to download the app for both Apple and Android phones. Once installed, sign in using the same credentials you use for the web site (Email, Facebook, Google, etc.) or select the option to register a new account if you don't already have one.
Step 2 – Subscribe to the orca data
Open the app and tap on the main menu button (red button top-left of the screen), and open the Settings page. Then, under Map Settings, choose External data providers, and then select Orcas @ Portugal and Spain. Your screen should now show the subscription settings page for orcas.pt: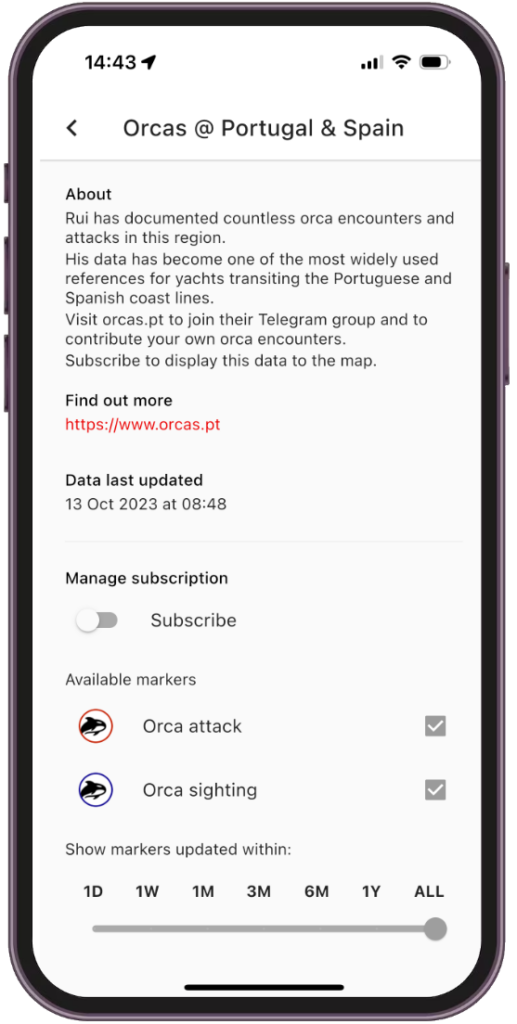 About halfway down the screen there is a Subscription switch. Turn the switch on to activate your subscription. Now, when you return to the map, you should see lots of new data markers along the coast of Portugal and southern Spain, tapping a marker will open the orcas.pt incident report: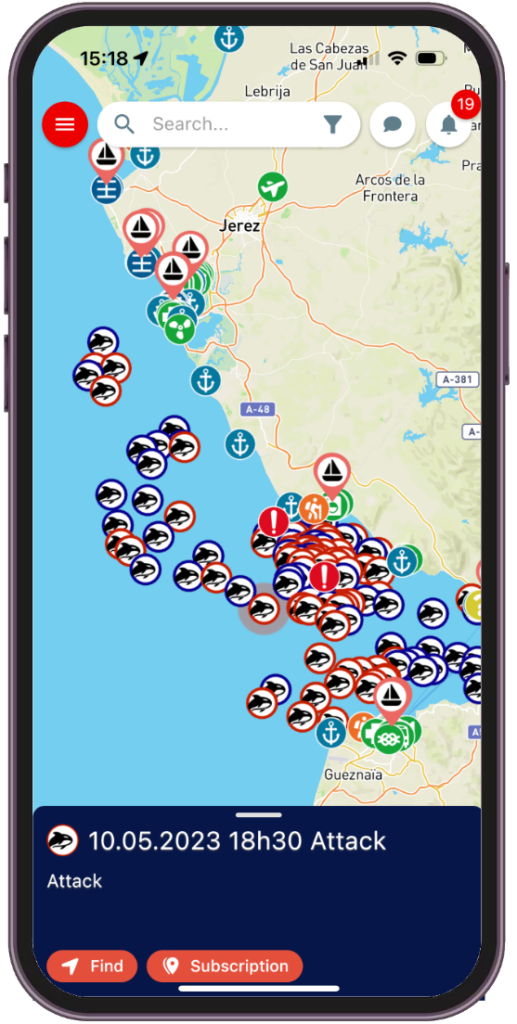 Step 3 – Customise your subscription (optional)
You can customize which data you want to subscribe to. For example, if you only want to see details of Orca attacks, you can uncheck the box on the subscription page for Orca encounters. And if you only want to see incidents in the last three months, you can adjust this using the slider at the bottom of the screen: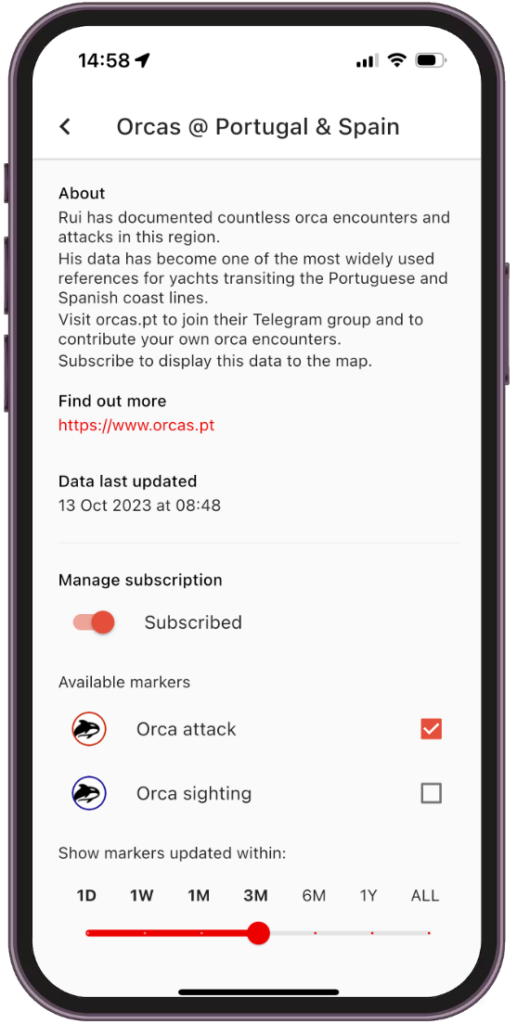 Top tip: If you want to get an even clearer view, then use Map filters to remove all markers except for external data. When used in combination with the above subscription settings, we can easily see all recorded Orca attacks in the last three months. Note that this works even when the app is offline: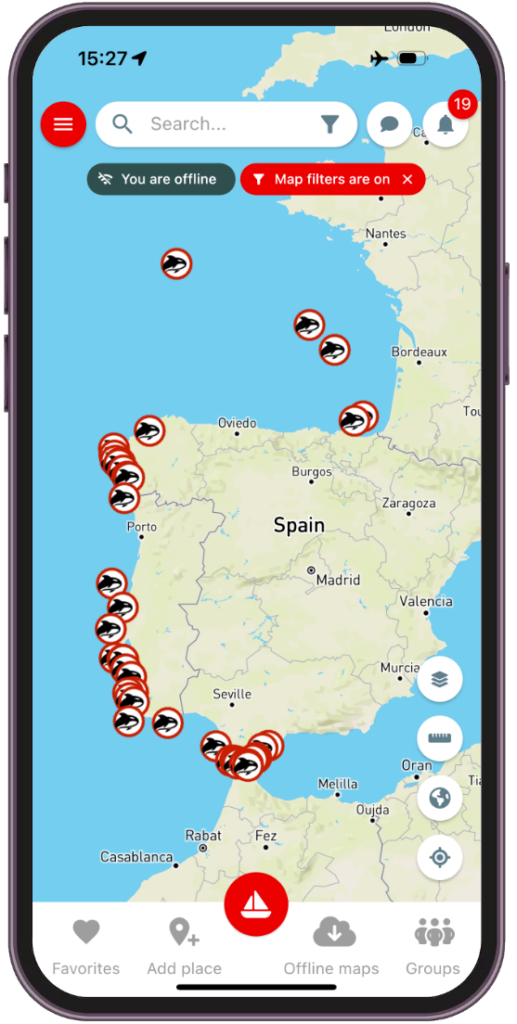 I hope you found this short guide useful. Check out our other NFL How to guides for more useful tips on getting the most out of noforeignland. Safe sailing!